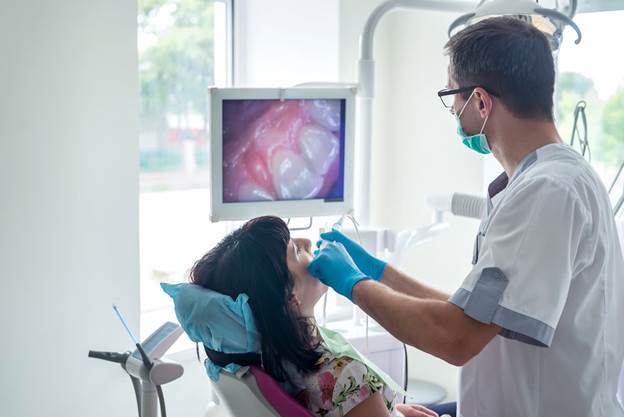 Digital dentistry is the use of digital technology and computers in dental care. It uses computer-aided design (CAD) and computer-aided manufacturing (CAM) software to produce dental restorations such as crowns, veneers, bridges, and implants. This practice has drastically improved the speed and accuracy of dental procedures. This includes both implants and restorations. With digital X-rays and 3D scanners, dentists can get a more accurate picture of the patient's mouth and teeth. This allows them to quickly and accurately identify problems and perform treatment quickly and effectively.
Digital dentistry also simplifies the process of creating custom prosthetics and implants. Dental technicians can design and create these in a matter of hours, dramatically reducing the time required to get a patient's dental reconstruction completed. It is transforming the field of oral healthcare. It is making it easier and faster for dentists to diagnose and treat various dental problems. It is also making the entire process of getting dental restorations and implants quick and easy – for both patient and practitioner.
How Does Digital Dentistry Benefit Oral Health?
Since digital dentistry provides accurate imaging technology, it is easier for dentists to identify and diagnose problems. This means they can begin treatment and work on a plan faster. Digital dentistry can also help dentists customize plans for each patient according to his/her unique needs.
Digital dentistry also offers many more treatment options. 3D imaging and printing technology allow dentists to create restorations and implants faster, more accurately, and with an eye toward the preservation of existing healthy tooth structures. Digital dentistry also opens the possibilities of more accurate treatment planning and greater restoration customization. Dentists can more precisely plan an effective treatment and create more detailed restorations, such as a dental implant. This has allowed restorations to be more aesthetically pleasing and comfortable than ever before.
Finally, digital dentistry is cost-effective. The use of digital technology is significantly reducing the cost of dentistry, making it more accessible for people who may not have otherwise been able to afford dental treatment. This is one of the most important benefits that digital dentistry has had for oral healthcare.
Our Technology
Our team is always focused on keeping up with the trends in dentistry. Our technology will ensure we get accurate solutions to a plethora of oral health issues. Some of our technology includes:
IntraOral Cameras
Rotary Endodontics
Digital X-Rays
Diode Lasers
Visit our technologies page to learn more about how we can meet your needs with our modern dental technology.
Book an Appointment
We have helped many of our valued patients take control of their oral health. Our digital dentistry technology is effective and high quality. Visit our contact page to book an appointment today.